Reverend John E. Reid, Sr.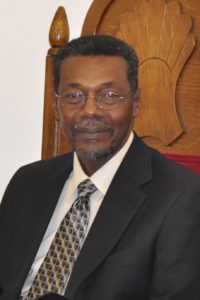 President of the Orange Branch NAACP
Reverend John E. Reid, Sr.
The Reverend John Reid is a native of Henderson, North Carolina. After receiving his primary education in Henderson, he attended St. Paul's College in Lawrenceville, VA, where he received a B.A. Degree in Sociology. Upon graduation he relocated to Orange Virginia where he began his career. He retired from American Woodmark Cooperation were he held several positions to include Supervisor, Department Head , Quality Control Manager, Purchasing Manager, Controller and Dimension Division Controller.
Upon accepting his call to the ministry in 1993 and rendering his initial sermon, he served as an associate Minister at the Little Zion Baptist Church in Orange, VA. Reverend Reid also attended Virginia Union University where he earned a Master's Degree in Divinity.
In 1994 he was called to Pastor the Mt. Zion Baptist Church, Advanced Mills located in Albemarle County. He served the congregation for 15years. After 15 years he returned to his home church Little Zion Baptist Church, where he preceded his mentor and Pastor, Reverend Marion Wilkerson.
Rev. Reid is involved and active in community and local organizations. He has served in several positions of public service—former Chairman, Orange County School Board; former President, Orange Branch NAACP; former Chairman, Orange County Social Service Board; Past Master, George James Lodge #321 Prince Hall Masons; Past High Priest, John F. Kennedy Chapter #71, Royal Arch Masons.
Reverend John Reid currently serves as the President of the Orange County Branch NAACP and President of the Orange County Education Foundation.
Pastor John Reid is married to the lovely Ernestine Reid, is the father of two adult children; Kenya & John Jr., and the proud grandparent of Destany, Kamari and Angel.